ABOUT
US
The success story of a man of humble beginnings
MG Produce is the brainchild of the humble but ambitious Sueng Min Yoon. From swap meet seller with a usual daily profit of just $30, Sueng is now the successful entrepreneur of the largest distributor of Asian fruits and vegetables in North America.
The beginnings of MG Produce date back to 1989, when a man Sueng met at church, suggested to him that he sell produce. The man, now a lifelong friend, would bring fruit from farms in Bakersfield which Sueng would keep in his garage overnight. The next morning, Sueng would load his dilapidated white van, driving all around Los Angeles to banks, shops, swap meets, clothing stores and more to sell the fruit.
In spite of being afflicted with a permanent limp from polio at the tender age of 3, Sueng was known for his cheerfulness. The honesty with which he worked and the fair prices at which he sold fruit made him well-liked.

In 1994, Sueng's business officially became MG produce, transformed from the door-to-door self-run small business it initially was to a wholesale distribution company. The inspiration for the name MG comes from 'Moogung' or the Rose of Sharon which is Korea's national symbol of perseverance. Sueng himself being an immigrant from Korea, the name is apt to represent his hard work and resolve to give customers healthy produce that is their money's worth.
Today, MG Produce operates out of a specialized, custom-warehouse, 100,000 square feet in size in Vernon. Our state-of-the-art facility has a number of advanced control zones such as dried, frozen and refrigerated. Every stage in produce handling from procurement to delivery is carefully monitored to avoid quality lapses.
We do business with some of the largest Asian and Hispanic markets, providing fresh, healthy, natural and great-tasting produce from our family-owned farms, local growers, and directly imported from South Korea, China, Vietnam, and Mexico. Our produce is delivered all over the United States including Alaska and Hawaii.
Sueng is proud of the heights to which his business has risen with a major chunk of the revenue coming in from, but not limited to, retail markets. MG Produce's annual gross sales continues to steadily increase each year. Sueng had never expected the company to grow to its current size as he notes to himself, "All I was doing and will continue to do is GIVE more value to my customers than what they pay for."
MG Produce is a Blue Book Certified Member. In addition, we carry the following valuable certifications that testify to the outstanding quality of our produce business.
Primus GFS
HACCP
OUR

SPECIALITY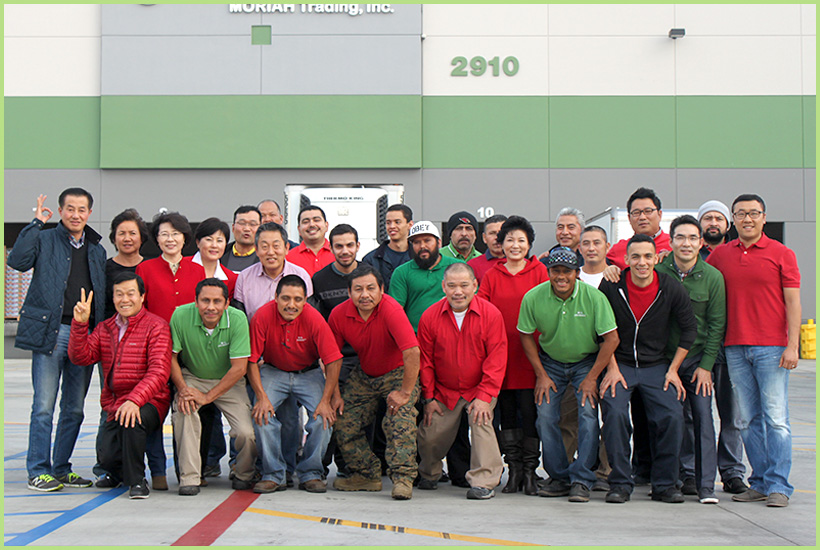 OUR

MISSION

From the time of inception, MG's mission has been to make our customers happy by providing high-quality products at market-competitive prices. We stand by that mission today as we strive to ensure year-long availability of our farm-fresh produce through the strong relationships forged with our grower network.

Over the years we have created a legacy of expertise, reliability, and dedication to improving our processes and standards. Our fruits, vegetables, tropical and specialty produce are only sourced from our family-owned farms, reputable local growers or well-known international brands. From staying abreast with technology to adhering to the strictest food safety standards, we work to meet or exceed customer expectations.

Core Values
Maintaining quality without compromising on honesty and integrity
A commitment to growing sustainability
Contributing to good health through our business
MEET

OUR TEAM

MG Produce is an equal opportunity employer. We have a strong team of energetic individuals including those at the management level, human resources, sales, warehouse, and accounting/finance. We work to ensure that our employees undergo rigorous training programs at intervals so that our business practices and standards stay relevant. Though we would prefer our team to be dedicated and on the task at all times, we do make time for creativity and fun.